We Need New Life
Jesus totally changes us by bringing us new life
Faith in Kids has released a series of 8 lessons ideal for family Bible times journeying through Matthew's Gospel to see we need Jesus. This video and accompanying resource, which is lesson 8 of 8 teaches us that we need new life.
This video creatively retells Matthew's account of Jesus healing a bleeding woman and a dead child. The video focuses on how these suffering people really needed Jesus – no-one else could help them. It emphasises Jesus' kindness and power in responding to people who reach out to him for help. And it ends by directly addressing the viewer, saying that Jesus can also change us completely, by giving us new life. We need Jesus and can have Him with us, now and forever!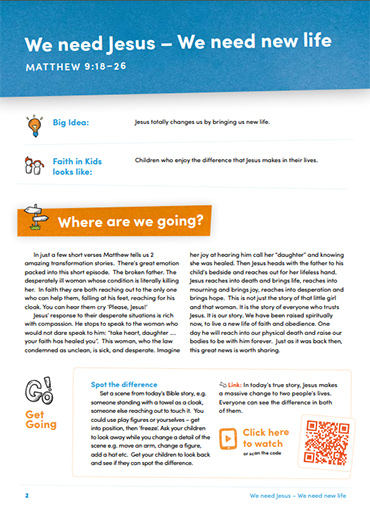 Accompanying Resources
The video download comes with an accompanying 4 page PDF resource that contains activities, craft ideas, a teaching guide, and questions to use alongside the video.
Possible Discussion Questions
Do I really recognise my desperate and helpless situation before God, apart from Jesus?
How much of a difference does knowing Jesus make in my life, that others can see?
Related Bible Reference
Categories