Launched in October 2016, Go Chatter is a hub website that contains catalogued and searchable Christian videos.
Googling and searching YouTube are of limited use when it comes to trying to find specifically Christian content – they simply don't surface the best or most relevant content available for the Church. Our hope is that, Go Chatter will make it so much easier for you to find a brilliant video that's ideal to share with a friend, show at an event or use as part of a service.
The Go Chatter site brings videos together from over 20 different Christian content creators who have kindly given us permission to make their videos available for churches to download. We have written a short description for each video and many have accompanying discussion questions. Our prayer is that this dedicated website serves those in Christian ministry, as they discover engaging videos that get people thinking and talking about Jesus. We have permission from a number of other content creators to add their videos to the website and are working on doing that at the moment.
We have recently introduced some paid for video content. Many creatives are stuck without the funds to create what God's put on their heart. We want to see them flourish and the UK church honouring and supporting creatives. Whilst the majority of content on the site is free to download, some of the videos have a minimal charge to download. When you purchase videos on this site you're helping creators re-coup the money it cost them to develop their videos.
Customised Videos
Have you ever wanted to make your own quality video but don't have the skills or time? At our sister website www.gochattercustomvideos.com the Go Chatter team have created an online tool to that enables you to create your own customised videos in just a few minutes. The tool is easy to use and doesn't require a video editing experience. Simply choose a template video, add your text, logo, photos etc and then the online tool will compile your finished video. For the price of a coffee you can download the video which will be ideal for showing in your church, or posting on social media.
Premier Digital Awards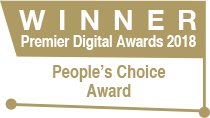 We were delighted to win the People's Choice award at the Premier Digital Awards 2018. Thank you to whoever nominated us for the award and thank you to friends and users of the site who voted. It was a real affirmation that individuals are finding this resource helpful.
Words of Encouragement
We used 'The Man Upstairs' video last night in our church homegroup – it really complemented our study, making punchy and challenging points in an engaging way – the voice-over was really clear and suited the video well.
Peter

Thanks for this nice video that I can show my year 7 students next week. Much appreciated.
Ingrid

The Christmas film clip was very well received last Sunday and we had a very happy Families@Four little gathering. Thank-you for making it and letting everyone use it.
Libby

Really enjoying the videos. I've now used 3 of them (Queen's 90th, Bucket list [more unicycling please!] and Ultimate Sacrifice), and found them really helpful and engaging.
Gordon

I used the Martin Luther video last night at our Church Bonfire Party. It was excellent. It held everyone's attention and all age groups learned even the adults! The work you are doing is fantastic and really helps to communicate the Gospel of Jesus to a digital, visual society.
Rachel

Excellent! I run a group in school every Wednesday lunchtime, and will be using one of the videos from the site today and the Christmas one next month.
Alec

These videos are much appreciated and are such a good way of getting a point across. Thank you for your ministry.
Margaret

Your Christmas Characters video was used in a lunchtime event in Tallaght Hospital today (near Dublin), it went down very well.
Mark

Another brilliant video clip I will use on Sunday. I do appreciate and thank God for your ministry and generosity.
John

Just the video I need at just the right time! Thanks so much.
Don