31st October 2020 isn't Halloween. For Christians, it is Reformation Day.
While the rest of the world is celebrating witches and fake blood and darkness, Christians will be commemorating the day in 1517 when Martin Luther, a German monk, nailed his 95 theses to a church door in Wittenberg.
The overlap with Halloween, or 'All Hallows Eve', isn't a coincidence. Luther deliberately chose 31st October because he knew the church would be packed the next day for All Saints' Day.
Several years ago we produced a Playmobil animation video of the story of Martin Luther. Over 4000 photos, a carefully constructed polystyrene set and hours of editing later, the production has been viewed over 500,000 times on Facebook and Youtube and downloaded over 3000 times by churches to use in their services. 
We started with making the polystyrene sets, cutting out the Wittenberg landscape with a hot wire cutter. The base was glued down and covered in plastic bandage and polyfilla to make sure it held together and to give the landscape a realistic look. Think paper maiche balloons in primary school.
Once the foundations were laid, they were covered in paint, sand, stones and fake grass to add a textured, rural-Germany-in-the-1500s feel. The 'sky' needed curved corners so there would be no awkward shadows in the background, and each cloud was cut out and glued on with a ton of Pritt stick.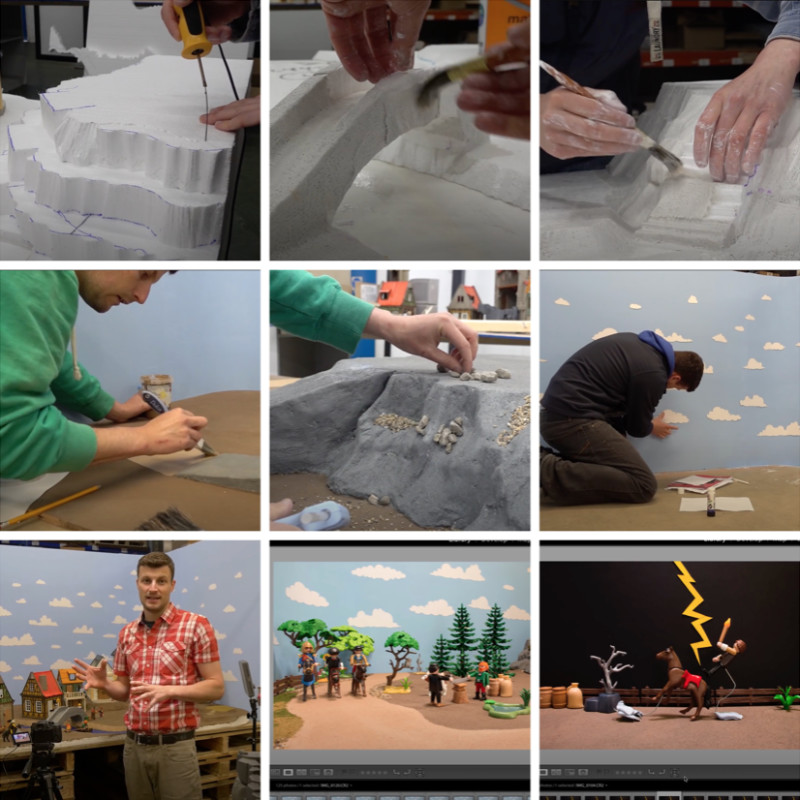 Once the set was complete, the buildings, people and trees were carefully positioned and anything that wasn't going to be moving was glued down. After each photo, minute adjustments were made to the Playmobil characters before another photo could be taken. Some photos needed blu tack and wire to hold objects in place or in the air. (Yes, it was as arduous as it sounds.)
Each photo then needed editing, grading (and the blu tack needed erasing), before they could be exported into a video editing software to be animated. Once the photos were ordered correctly and played through, they gave the allusion of motion.
Sound effects, music and narration all needed to be carefully timed and added as well.
To give an idea of timing, a 3-5 second clip required 60-80 photos to give the allusion of motion. The final video which is over 4 minutes long needed over 4000 photos.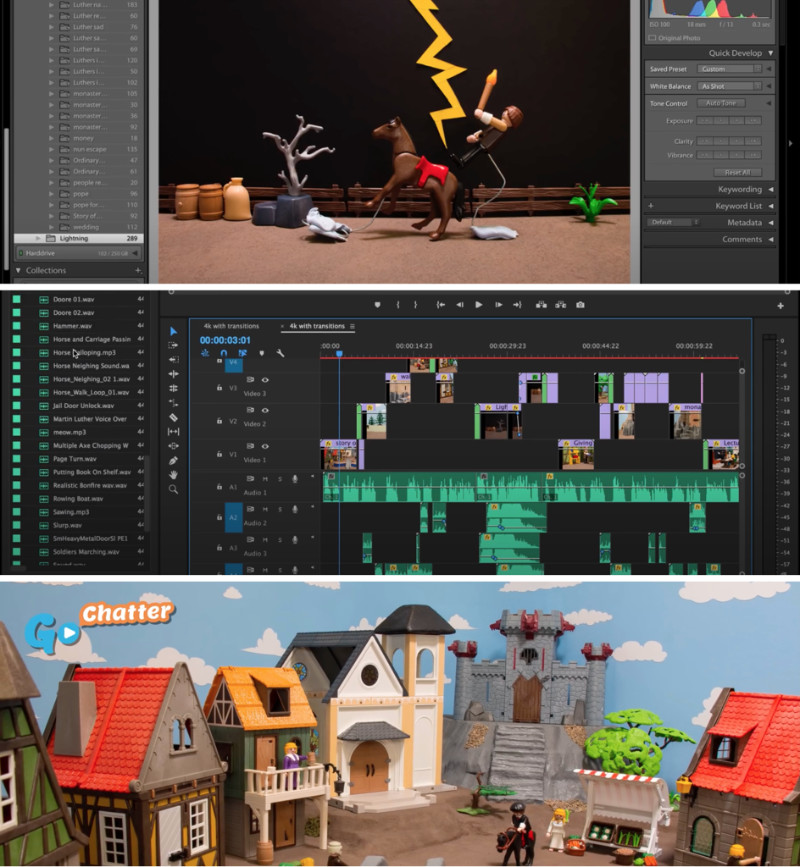 Our hope at Go Chatter is that people watching the video would get excited about the same things that gripped Luther from the Bible (These can be summarised in the "5 Solas", Latin for 'alone' – that salvation comes by Scripture alone, by faith alone, by grace alone, through Christ alone, to the glory of God alone.)
Why not use the video in your church service, kids group or youth event to explain what the Reformation is, why it matters, and how the gospel impacts lives today – even 503 years on from the first Reformation Day.