We Need To Be Safe
Jesus has power over creation. We are safe with him.
Faith in Kids has released a series of 8 lessons ideal for family Bible times journeying through Matthew's Gospel to see we need Jesus. This video and accompanying resource, which is lesson 4 of 8 teaches us that we need to be safe.
This video on Matthew 8:23-27 wonderfully shows that Jesus is the King of creation. He speaks, and the wind and waves listen to his voice. This is something the disciples haven't fully grasped yet, if they knew who Jesus truly was, they would know that they were safe no matter what. As this story shows us, life following Jesus will not always be plain sailing. Despite this, we can be certain that we are completely safe no matter what we face because King Jesus is with us. The King who rules over creation is with us and cares for us always.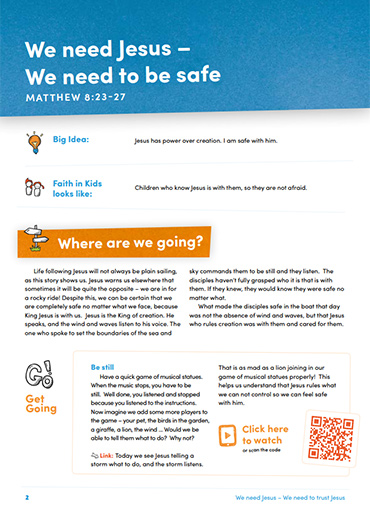 Accompanying Resources
The video download comes with an accompanying 4 page PDF resource that contains activities, craft ideas, a teaching guide, and questions to use alongside the video.
Possible Discussion Questions
How does remembering that Jesus, the ruler of creation, cares for you encourage your heart and your faith today?
Why did the storm listen to Jesus?
Related Bible References
Categories