We Need Jesus To Win
Jesus has power over evil and he cares for people.
Faith in Kids has released a series of 8 lessons ideal for family Bible times journeying through Matthew's Gospel to see we need Jesus. This video and accompanying resource, which is lesson 5 of 8 teaches us that we need Jesus to win
Jesus is stronger than any other power, even the devil. The two men we meet in this story are prisoners of the evil power at work in their lives. They have a sad life without choices. No-one else can help them – people are too afraid to even come close. Jesus however, is not afraid, because he is stronger. He cared for those men and he cares for us too. We can trust him to protect and release us from the devil, and everything evil. We don't need to be afraid. We don't have to be strong enough to fight evil on our own, we can trust Jesus to protect us.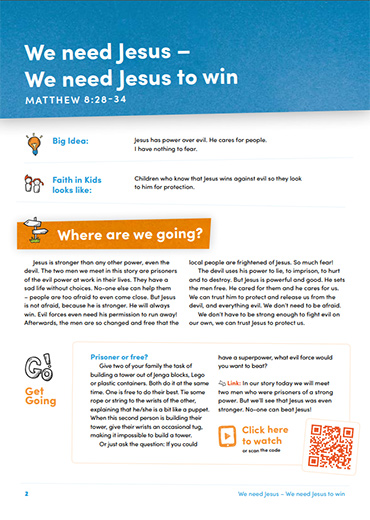 Accompanying Resources
The video download comes with an accompanying 4 page PDF resource that contains activities, craft ideas, a teaching guide, and questions to use alongside the video.
Possible Discussion Questions
How do I feel when I think of Jesus' immense power?
Do I want to keep him at a distance, holding onto the power to run my own life? Or do I draw near in faith, knowing that he graciously uses his power to protect and care for the weak and powerless, including me?
Related Bible Reference
Categories