We Need To Trust Jesus
Jesus has the power over sickness. He speaks and what he wills is done.
Faith in Kids has released a series of 8 lessons ideal for family Bible times journeying through Matthew's Gospel to see we need Jesus. This video and accompanying resource, which is lesson 3 of 8 teaches us that we need to trust Jesus.
This video is a child-friendly recreation of the story of the faith of the centurion in Matthew 8:5-13. This Centurion was a powerful man, but he is powerless to help his servant when he falls ill and comes to Jesus for help. He approaches Jesus humbly, knowing that he is unworthy to even have Jesus enter his house. The Centurion's faith is commended by Jesus and with a word he heals the servant from miles away. Like the Centurion, we need to understand our own helplessness and depend totally on Jesus. He is the king of heaven and we can trust him with anything.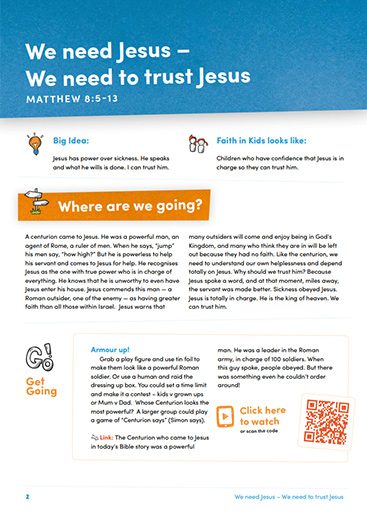 Accompanying Resources
The video download comes with an accompanying 4 page PDF resource that contains activities, craft ideas, a teaching guide, and questions to use alongside the video.
Possible Discussion Questions
How does remembering that Jesus is in charge, even sickness, encourage your heart and your faith today?
How does knowing that Jesus has power help you to
trust him?
Related Bible Reference
Categories