We Need To Be Forgiven
Legs healed and a heart fixed
Faith in Kids has released a series of 8 lessons ideal for family Bible times journeying through Matthew's Gospel to see we need Jesus. This video and accompanying resource, which is lesson 6 of 8 teaches us that we need to be forgiven.
This is Matthew's account of Jesus healing a lame man's legs, retold using Playmobil. The story begins with a man who has an impossible problem – he can't walk! He is carried to Jesus by his friends, because they heard of Jesus' miracles and hoped He would heal their friend. However, instead of healing his legs, Jesus told him his sins are forgiven! These words are highlighted for their shock factor, because not only does Jesus overlook a man's obvious physical need, but he also claims to do something only God can. However, the astonishing events do not end there, because Jesus knew the disbelieving hearts of His onlookers. To prove His authority to forgive sins, He told the paralysed man to take up his mat and walk, which he did! Jesus knows our greatest problem – our sin, and Jesus can fix it – by forgiving us!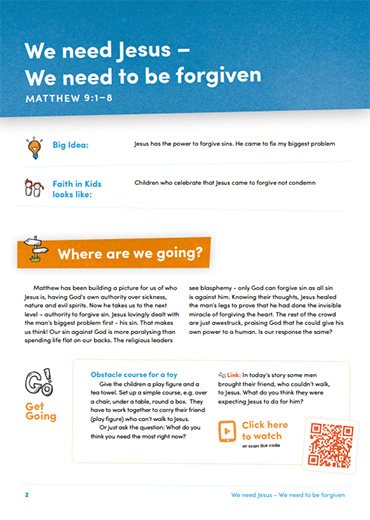 Accompanying Resources
The video download comes with an accompanying 4 page PDF resource that contains activities, craft ideas, a teaching guide, and questions to use alongside the video.
Possible Discussion Questions
What needs fixing most – your body or your soul? Do you share in the worship of the crowd?
If not, have you forgotten or minimised your need for forgiveness?
Related Bible Reference
Categories