Description
Meal 5: Have you ever been to a party and had a really bad seat?
In this video, Jesus went to a party where everyone thought they should have the best seat. The Pharisees set a trap for Jesus and invited a sick man to his party.
But Jesus wasn't surprised. He was kind to the sick man who needed help and healed him on the Sabbath. Then Jesus told a story to show that following God is about loving people and loving God, not about being selfish and making sure you look good.
Jesus put everyone first when he died for them on the cross.
Suitable for children aged 5-11 years old.
(Created from Faith in Kids' Meals with Jesus resources. Download their Meals with Jesus Sunday School resources or order their Meals with Jesus family Bible time book.)
Possible Discussion Questions
How can you be thankful to Jesus for putting everyone else first on the cross?
How could you put others first?
Related Bible Reference
Series Content
Links to the rest of the series:
Meal 5 – Best Seat in the House
Credits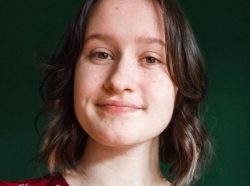 Bella works as a youth ministry trainee for Christ Church Leyton as part of her gap year placement. This involves making Bible story videos for the Sunday School and Toddler ministries. Bella loves cats, geography and going to the theatre.
Licence Agreement
Ministry use licence
This video is available for use online or offline in the context of your ministry/ministries (e.g. church service, children's/youth group, small group, Bible study, school assemblies and lessons). By purchasing this video, you are purchasing a license to use and show it in the context of your specific situation (unless otherwise noted, this excludes uploading it by itself to social media).